As the first global initiative to support the acceleration of adaptation by regional governments, RegionsAdapt has been working since its launch at COP21 to strengthen the voice and actions of regions worldwide. Working on adaptation through capacity building, knowledge exchange and cooperation, the initiative has reported annually over 50 plans and 230 adaptation actions.
RegionsAdapt is a unique platform that inspires and supports regional government in developing ambitious adaptation strategies, implementing concrete actions, and transparently reporting on their progress, while actively contributing to building resilience for regions' most vulnerable communities with a multi-level governance approach. With more than 70 signatory members impacting 300 million citizens RegionsAdapt is mobilising ambition on adaptation worldwide.
As a proud partner of the Race To Resilience, and lead initiative for regions within the campaign, we pledge to: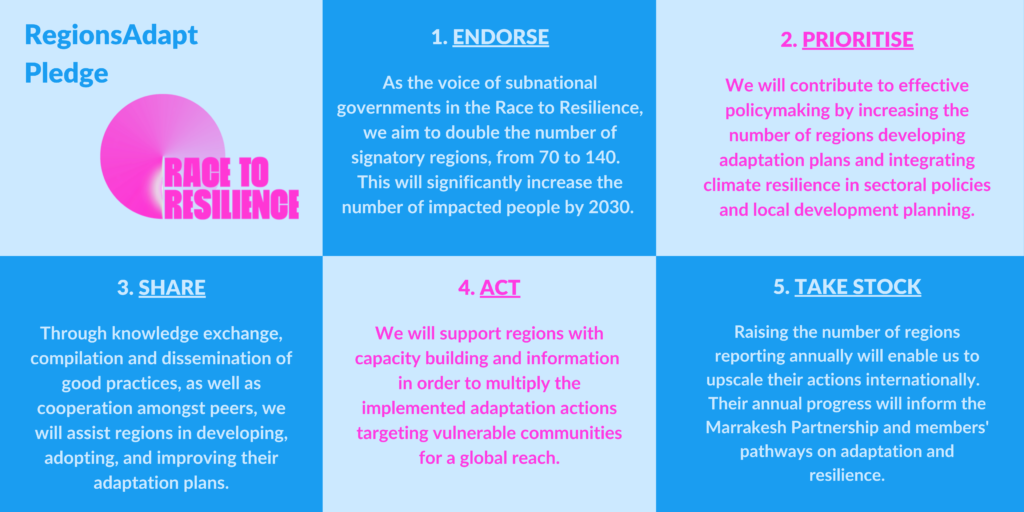 When regional governments engage with the RegionsAdapt initiative, they demonstrate their leadership in becoming part of the global solution to tackle climate change and automatically become part of the Race to Resilience.
To join the RegionsAdapt community click here, to join the Race to Resilience campaign as a regional government and learn about the commitments click here.
To learn how we can support your government, read the RegionsAdapt Strategy 2021-22.
#WhatsAtState Campaign
The #WhatsAtState campaign is a campaign launched by Regions4 and the Under2 Coalition at COP26 to look at the impact of climate change on regions, providing a voice for regional governments to share their concern and the urgency to act.
In its second edition, this year the campaign focuses on the response and solutions that regions are putting in place to answer the crisis, highlighting the leadership role they are playing in protecting their citizens and territories.
Follow us on Twitter @Regions4 #WhatsAtState campaign, in collaboration with the Under2Coalition, to learn more about regional governments' actions towards resilience.
Consult our dedicated webpage here.