UN Climate Change Conference | COP28 
From 30 November to 12 December 2023, the United Arab Emirates (UAE) will host the 28th Conference of the Parties to the United Nations Framework Convention on Climate Change in Dubai – UN Climate Change Conference at United Arab Emirates (#COP28) 
COP28 is one of the most important moments for global climate action, and this year the COP28 Presidency's two-week thematic programme is focused on responding to the Global Stocktake – review of progress on commitments to reduce emissions and adaptation planning – and closing the gaps so that we can achieve the goals of the 2030 Agenda. 
The COP28 Presidency is the first to hold an open consultation on thematic areas, inviting contributions from a wide range of stakeholders from governments, businesses, civil society, youth and indigenous peoples, among others.   
Each day of the COP28 programme is dedicated to specific themes that will support the global outreach for Climate Action, themes include gender equality, youth action, energy, agriculture and others and incorporates four cross-cutting themes: Technology and Innovation, Inclusion, Frontline Communities and Finance, which will be explicitly incorporated into both the content and the speakers. 
Regions

4 at COP28
This year is an important year for the Global Stocktake providing a five-year progress report on climate commitments and adaptation  
As an observer organisation accredited to the UNFCCC, the overall objective of Regions4 participation at UNFCCC COPs, and COP28, is to promote multilevel governance for increased ambition and effective action on climate adaptation through the key role of regional governments. 
Regions4 brings forward innovative solutions that can be up-scaled and will present the role Regions4 and its initiative, RegionsAdapt, plays in supporting regional governments in raising their ambitions on adaptation and resilience. 
Regions4 works closely with the Local Governments and Municipal Authorities (LGMA) constituency, as co-lead of their working group on adaptation with the Committee of European Regions (COR), to advocate for a multi-level action COP, in which collaboration at all levels of government is recognized, as the new normal, and considered in the announced new ambitions.  
Through the Race to Resilience campaign, Regions4 continues to provide further visibility to the actions of regions, as part of the non-party (national governments) actors' community, developing and accelerating actions towards resilience.  
Regions4 participation at COP28 will involve participating in key events, organizing key debates and discussion through our leading events, inputting in the negociations around the Global Goal on Adaptation and providing inputs from regional governments to the Global Stocktake.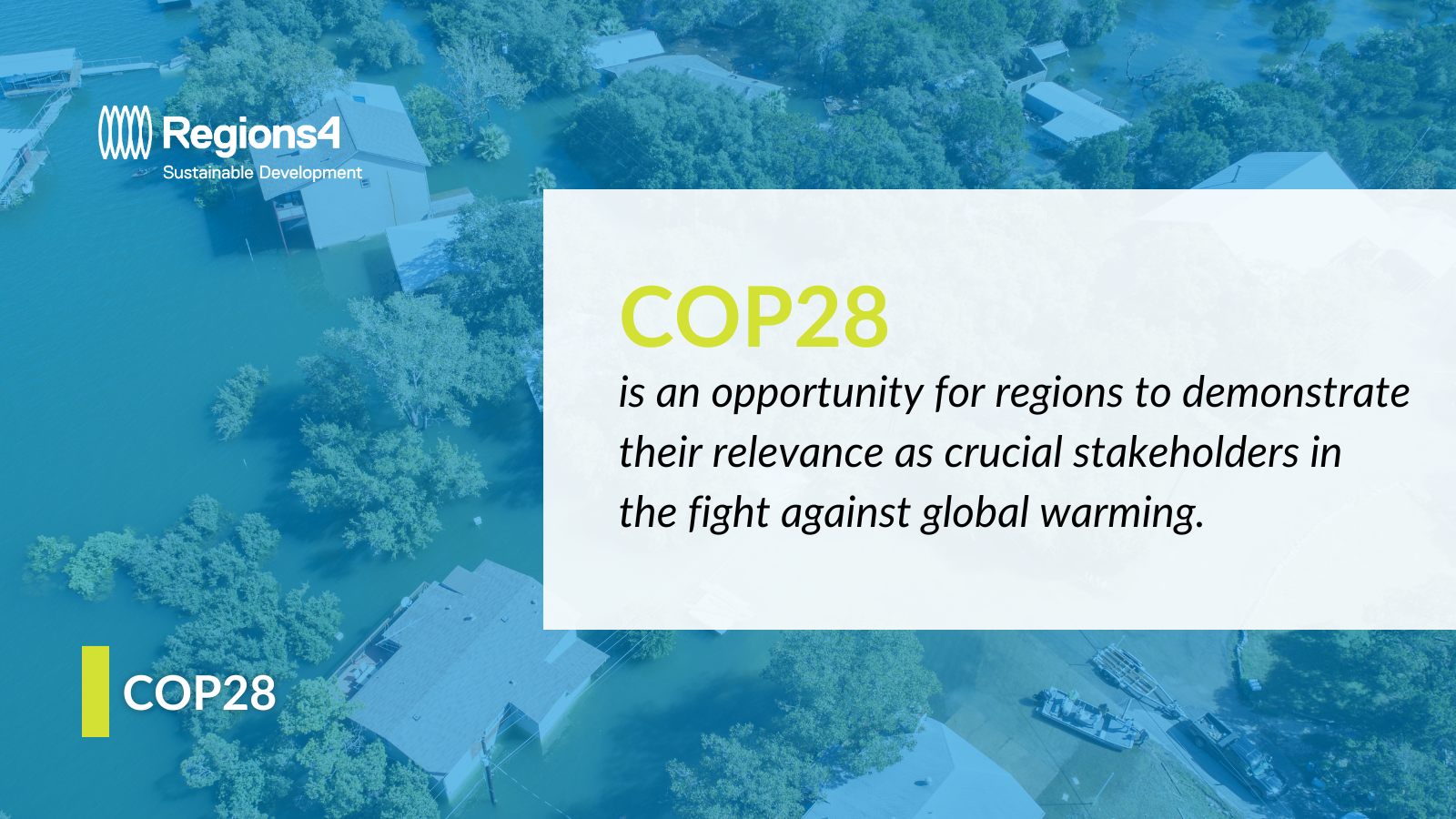 Regions

4 key messages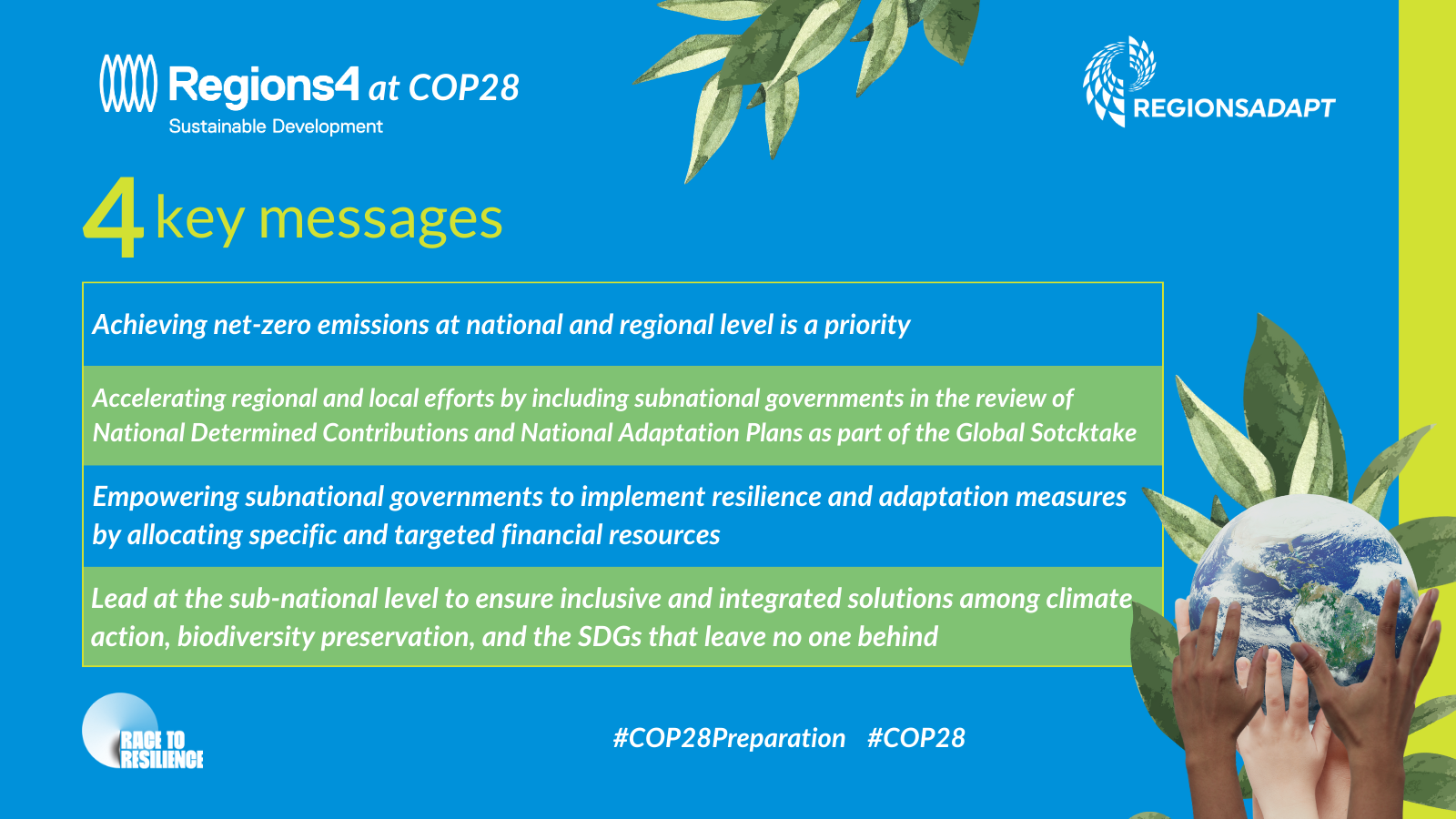 #RegionsVoice 
In 2019 Regions4 launched the global campaign #RegionsVoice in a collective effort to bring the voice of regional governments to the major events and negotiation processes in sustainable development within the UN.
The aim of the campaign is to ensure the visibility and wider recognition of the role of regional governments in sustainable development, by elevating both individual and collective messages and engaging with a wider audience during the UN Decade of Action.
2023 will be a critical year to raise climate ambition, put adaptation and resilience at the centre of the global agendas, and ensure that multi-level governance heads the decision-making table. Join us, as we gear up to share our aspirations and contributions for COP28.
Key Regions

4 events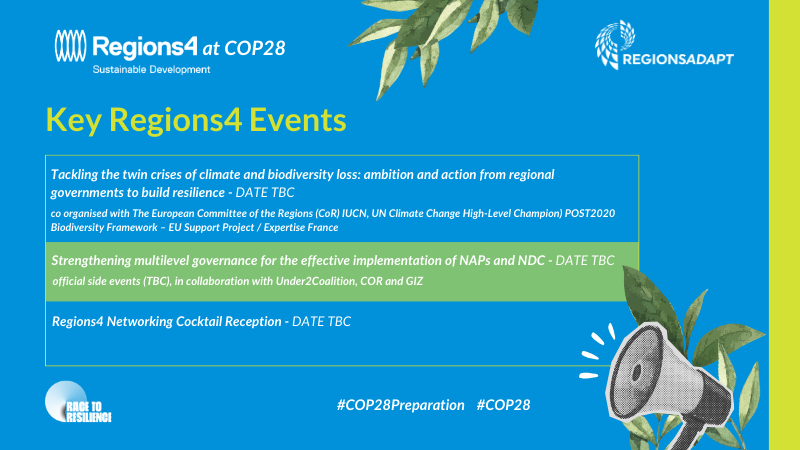 For more details on each event:
Tackling the twin crises of climate and biodiversity loss: ambition and action from regional governments to build resilience
Co-organised with The European Committee of the Regions (CoR) IUCN (IUCN President Razan Al Mubarak, UN Climate Change High-Level Champion) POST2020 Biodiversity Framework – EU Support Project / Expertise France
Date: TBC
Time: TBC
Place: EU Pavillion – TBC
Strengthening multilevel governance for the effective implementation of NAPs and NDCs
Organizers: Regions4 in collaboration with Under2Coalition, COR and GIZ 
Date: TBC
Time: TBC
Place: Official Side Events
Regions4 Networking Cocktail Reception
Organizers: TBC
Date: TBC
Time: TBC
Place: TBC
Regions

4 Partners and members Events
More information will be provided end of September. 
Join us in

disseminating

the regions' results in support of climate

resilience

 
RegionsAdapt 2023 Report
RegionsAdapt is the pioneering initiative launched in 2015 at COP21 that brings together leading regions on climate change adaptation, to foster collaboration, as well as learning and raising capacities. 
Since 2015, when Regions4 became a CDP partner, we have published the Regions Adapt Report annually, which provides a compiled view of the risks of climate change for Regions Adapt member regions, as well as their progress and supports peer-to-peer learning on adaptation actions. 
Access the previous RegionsAdapt reports on https:///www.regions4.org/publications and follow us to see the 2023 version. 
> Available at COP28 
Policy brief on the twin crises of climate change and biodiversity loss
With support of the Post 2020 Biodiversity Framework–EU support project, Regions4 is preparing a policy brief on the crucial role of subnational governments as territorial innovation laboratories for inclusive solutions to the dual climate and biodiversity crises. Scheduled to be launched ahead of UNFCCC COP28, the document will explore regional leadership for integrated approaches, transformative governance and financial mechanisms for climate and biodiversity action with multiple co-benefits. 
>Available at COP28 
Subnational declaration for COP28
Subnational governments as part of the LGMA constituency have co-developped key messages and recommendations for their expectations for the negotiations of COP28. 
The position of LGMA Constituency Towards UNFCC COP28 is available here.
Media Resources
Know more about us  
We are the global voice of regional governments (states, regions and provinces) before UN negotiations, European Union initiatives and global discussions in the fields of climate change, biodiversity and sustainable development. 
TWITTER – https://twitter.com/Regions4SD
LINKEDIN – https://www.linkedin.com/company/regions4
Ms. Barbara Cruz  bcruz@regions4.org
BEST PRACTICES AT A GLANCE
        >> Coming soon
        >> Coming soon
        >> Coming soon. Don't forget to follow and tag @Regions4SD and #Regions4AtCOP28
         >> We will update the photo in the online album on our Flickr page, keep following here. 
          >> Coming soon