UNFCCC COP26 held on 1-12 November 2021, gathered 200 countries and over 40,000 delegates in the most important climate event since 2015.
The international community had big expectations regarding the decisions that would mark our planet's near future. However, it ended with a pending task: matching the level of the ambition with the level of urgency that the climate crisis presents.
Greater action and solidarity; collaboration across levels, sectors, and continents; and acceleration of short-term priorities in the 2020s towards a net-zero resilient world, are absolutely essential, and can only be achieved through robust pathways.
Among the key outcomes of COP26, we highlight the following:
Through the Glasgow Climate Pact 200 countries agreed to present by the end of 2022 strengthened emission reduction targets to 2030, combined with a yearly review on global progress beginning in 2023.
For the first time ever, the COP has agreed action on phasing down fossil fuels, aiming at closing 40% of the world's existing 8,500 coal-fired power plants by 2030.
The Glasgow Climate Pact explicitly highlights the "urgent need for multilevel and cooperative action" and the Glasgow Work Programme on Action for Climate Empowerment encourages States to develop funding instruments to support such activities, in particular at subnational and local levels.
Important steps forward in relation to adaptation, as the 2-year programme Glasgow-Sharm el-Sheikh was approved to define and operationalise the global goal on adaptation, recognising the need to help countries measure and track adaptation. COP26 saw record-breaking pledges to the Adaptation Fund increasing the fund by 40%.
Nature and biodiversity took center stage with leaders from 130 countries, representing nearly 90% of the world's forests, committing to halt deforestation by 2030.
Loss and damage remain a pending issue, yet an area in which regions are leading by example: Scotland, whose Climate Justice Fund was a world first in 2012, announced they would triple the fund. The Wallonian regional government of Belgium join with a €1 million pledge.
The Paris Rulebook was finalised including outcomes regulating carbon markets, timeframes for NDCs and transparency regimes among others, to make the Paris Agreement a reality.
>> The COP26 decisions document is available on the UNFCCC webpage
Though COP26 did not achieve the expected results, the non-state community delivered important steps with a strong contribution by regional governments: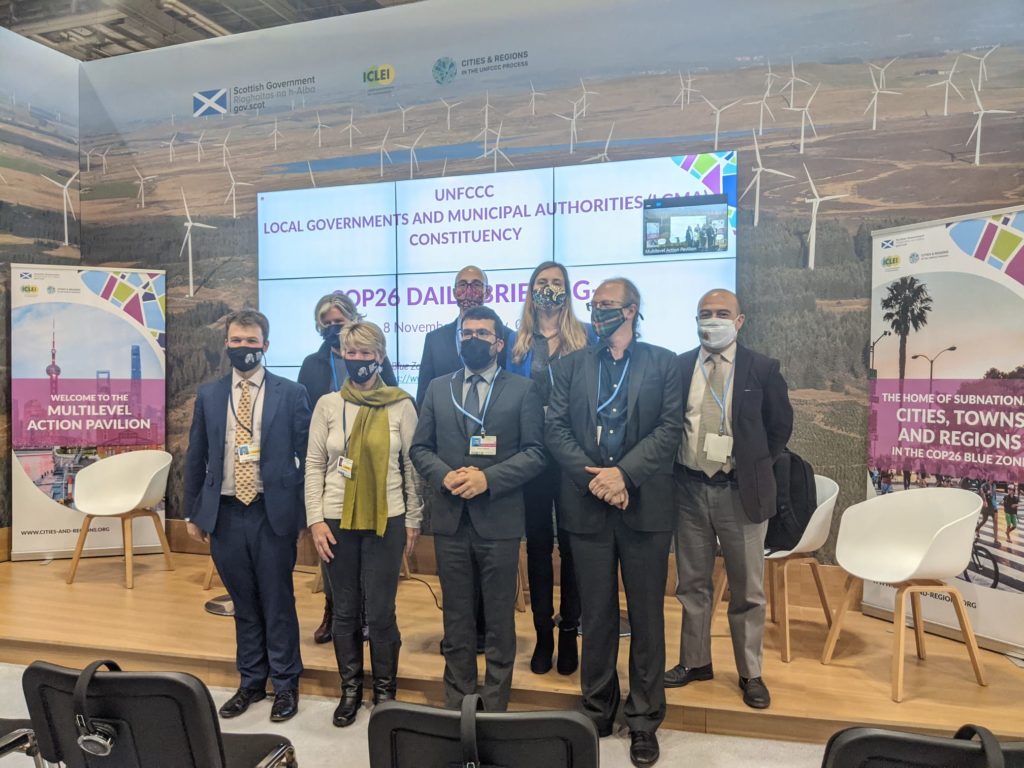 The LGMA constituency ensured that the Glasgow Climate Pact included concrete mention and recognition of subnationals, and worked to influence the text, notably the sections on non- market approaches under Article 6, and the preamble of decision 1-CMA.3.
Over 60 countries used multilevel collaboration to contribute to increase climate ambition towards COP26 with a clear tendency to raise this number in the near future.
Thanks to RegionsAdapt, to date 76 regional governments have joined the Race to Resilience, impacting over 300 million people, with the commitment to help build resilience within the next decade.
The Race to Resilience metrics framework was launched during Adaptation, Loss and Damage Day at COP to help non-state actors quantify and verify the benefit of their climate resilient actions for people and hectares of natural systems.
68 state, regional and city governments have signed up to a range of ambitious sectoral actions to accelerate climate progress by 2030, including actions on clean transportation, the built environment, energy, nature-based solutions, waste, agriculture, environmental justice, and inter-governmental cooperation and planning.
Scotland and Wallonie led by example pledging over 1 million euros each to boost the loss and damage agenda globally.
Regional leadership & inspiring action
At COP26, regional governments showed once more that they are, and will continue to be, at the forefront of the climate action. Regions4 endeavours to support their efforts, catalyse their leadership and upscale their actions internationally to foster a truly multi-level climate governance that puts us on a path to recovery for a healthy planet.
Regions4 and a delegation of 17 members was present in Glasgow to show what raising ambition looks like thanks to regional leadership. Through a comprehensive agenda of events, a brief report to COP26 and a call to action of regional governments, we brought best practices, commitments, and actions to lead the way forward.
We continued to advocate for a more resilient future in which multilevel collaboration is the new normal. Working hand in hand with the Marrakech Partnership for Global Climate Action and the UNFCCC's constituency of Local Governments and Municipal Authorities, Regions4 provided inputs for the collective messages for both the Adaptation and Resilience Day, and the Cities, Regions and Built Environment Day. The joint non-state action has clearly made a difference at COP26, as shown by the first-ever Multi-level Action Pavillion as a collective milestone.
>> The highlights of the Multi-level Action Pavillion and the subnational constituency can be found here.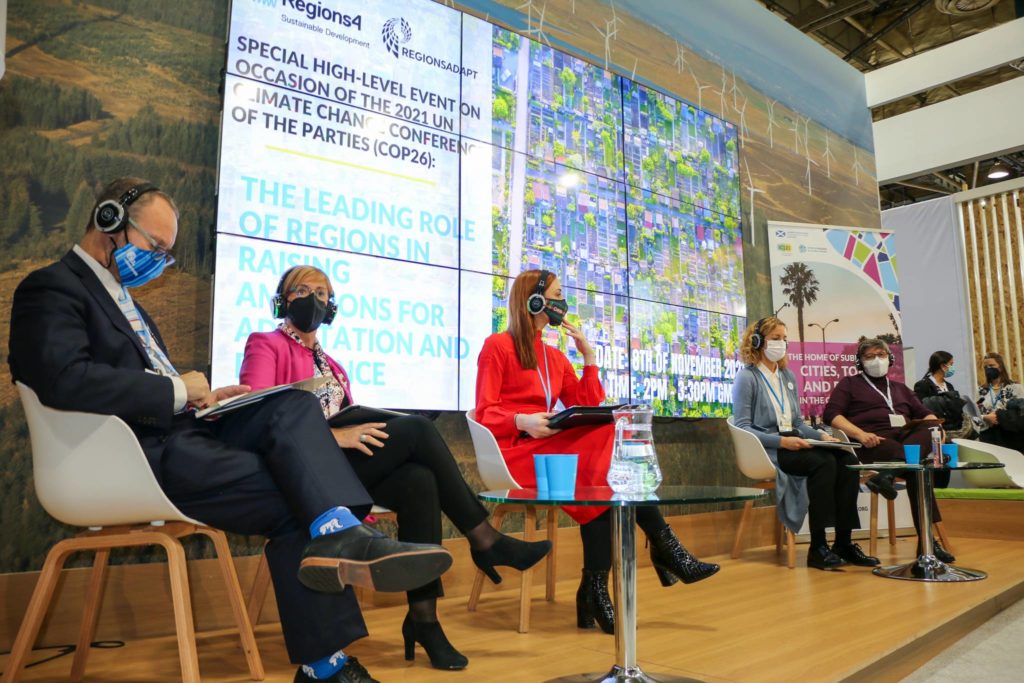 On Adaptation Day, 8 November, Regions4 organised the high-level event "The Leading role of regions in raising ambitions for adaptation and resilience". As part of the official programme of the LGMA Multi-level Action Pavillion, the event gathered the regional governments of Scotland, Jalisco, Mancomunidad de los Andes, Basque Country, Catalonia, South Australia, Flandes, CONGOPE, Lombardy, Sao Paulo and California, as well as over 20 partners including the UN High-Level Climate Champions and BC3, to call for multi-level governance and radical collaboration to deliver for climate.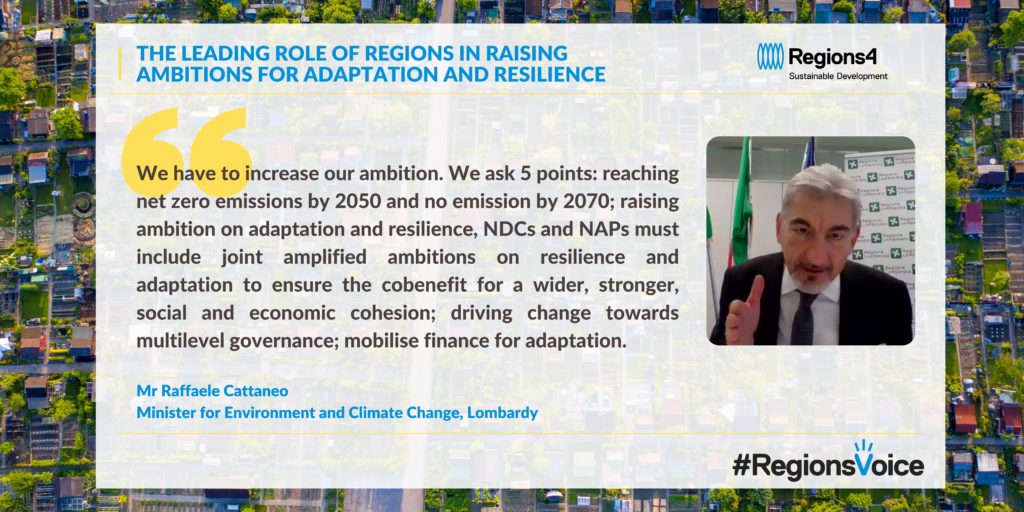 >> To revisit the event and its outcomes please go to Regions4's youtube channel.
>> The event's social media coverage and key messages can be found here.
Celebrating milestones
As a key partner of the Edinburgh Declaration and strong advocate for the integration of agendas, Regions4 supported the event "Hearing the voice of subnational governments: learning from the Edinburgh Declaration for biodiversity" which presented lessons learnt from COP15 regarding the multi-level collaborative efforts towards an inclusive post-2020 Global Biodiversity Framework. In the margins of this event Regions4 President and Secretary General met with the Scottish Government and the UN's Convention on Biological Diversity to reinforce the collaboration within this agenda.
>> The event's social media coverage and key messages can be found here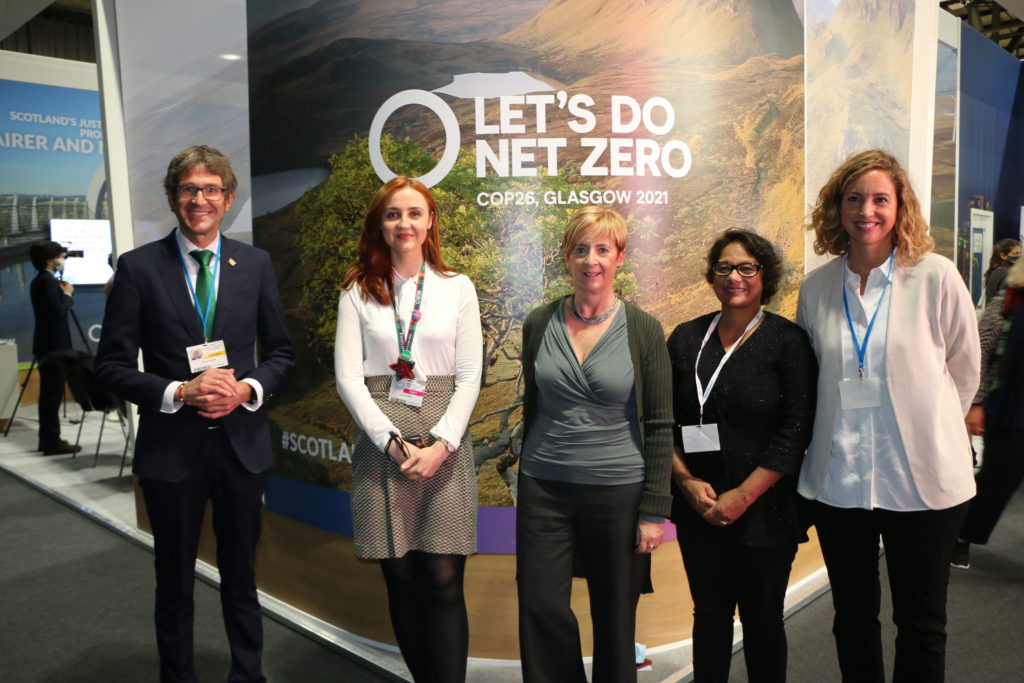 Regions4 facilitated the participation of its members in multiple events and activities, and we were able to celebrate key announcements such as the nomination of Regions4 Vice Presidency for the Americas, Jalisco, receiving a UN Climate Action Award, or Scotland's leadership to boost the loss and damage agenda by announcing to triple the Scotland's Climate Justice Fund.
RegionsAdapt excelled as a unique initiative to catalyse actions on climate adaptation by regional governments, bringing together a community of 76 regions impacting more than 300 million people and delivering over 230 actions annually to contribute to the resilience of 4 billion people vulnerable to climate change by 2030.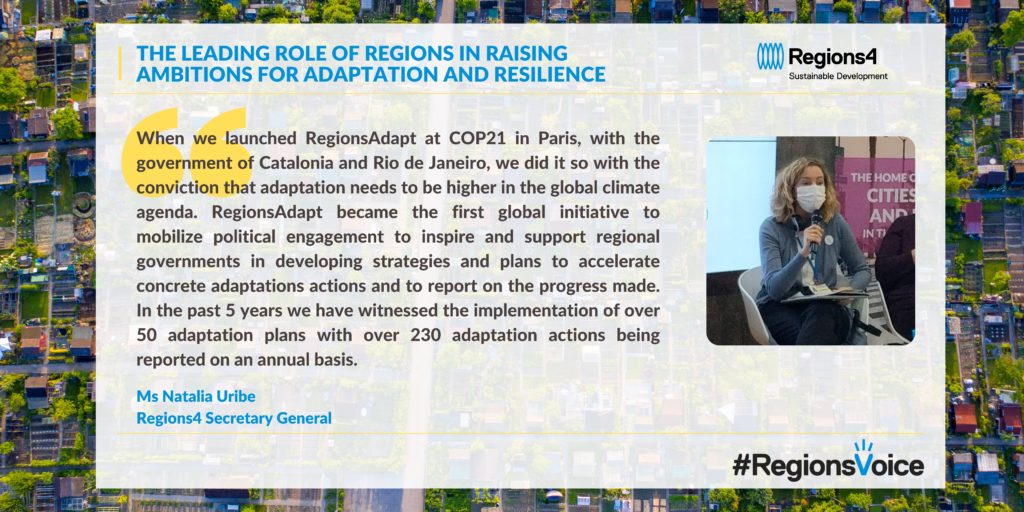 The partnership with the Basque Government and the Basque Centre for Climate Change – BC3, has allowed us to continue to reinforce the RegionsAdapt initiative and the opportunities it will offer for members going forward. As a result, Regions4 launched the brief report Raising ambitions on climate adaptation: lessons learnt and contributions of regional governments, which focuses on 11 leading good practices which provide innovative solutions in areas such as food security and sustainable agriculture; water availability and regulation; restoration of coastal areas and ecosystems' protection; integration of urban and rural realities; renewable energies; and multi-level climate governance among others. The report also follows the current science on climate adaptation and provides insights and key recommendations to inform policy makers in further decision-making.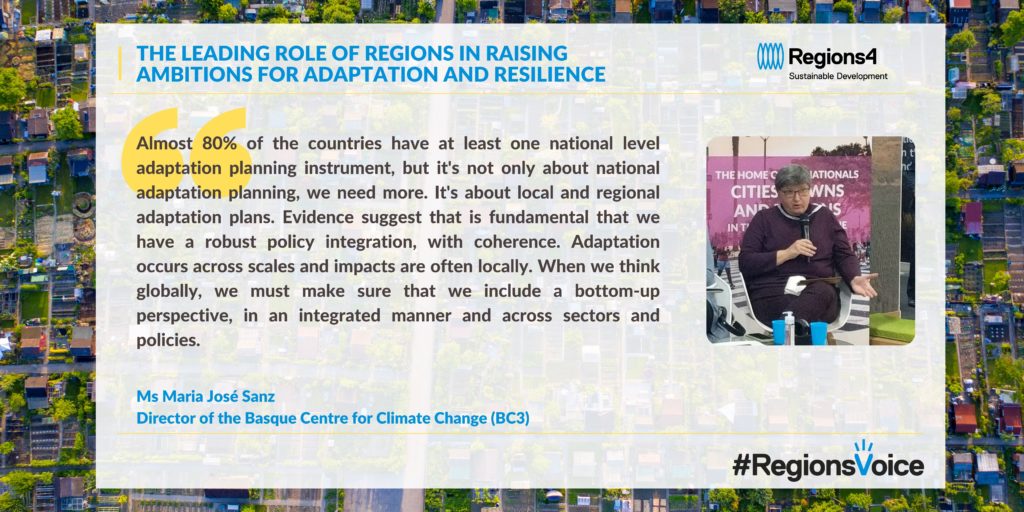 The work of RegionsAdapt was openly recognised by the UN High-Level Climate Champions throughout several events, including Regions4 among the leading organisations within the official Race to Zero and Race to Resilience campaigns. This recognition included an invitation to participate in a private roundtable with former US President Barack Obama with a select group of 20 representatives worldwide, to share non-state actors' aspirations, commitments and key contributions.
Connecting for climate
Regions4 was able to have a strong presence at COP26, thanks to a-year-long solid collaboration with members and partners to develop a participatory strategy and roadmap to: support our colleactive advocacy efforts; reinforce the RegionsAdapt community and its contribution to the Race ToResilience campaign; and continue to raise regions' voice within the UNFCCC with key events such as the PreCOP26 Dialogue for Climate Action held in Milan, or key initiatives like the joint campaign #WhatsAtState which showcased what regions stand to lose if we don't meet the Paris Agreement targets.
In Glasgow we were able to gather our community to reconnect for climate and exchange with members, partners and other regional governments on several opportunities, including the Regions4 reception hosted by Scotland, Regions4 Vice President for Europe – Flanders, and California on 8 November.
>> The image gallery of Regions4 presence at COP26 can be found here.
Further information
To learn about Regions4 activities and messages in detail, please click here.
To join Regions4's community and our advocacy efforts, please contact Héloïse Chicou at climate@regions4.org
To join RegionsAdapt and the Race to Resilience campaign, please contact Mayra García-Blásquez at mgarcia@regions4.org
To find out more about our work on climate action click here.