English version / Version français
2021 es un año de reuniones críticas en la ONU y un punto de inflexión si el mundo quiere asegurar un futuro en el que las personas y el planeta puedan prosperar juntos. Con motivo del Foro Político de Alto Nivel de las Naciones Unidas sobre el Desarrollo Sostenible (HLPF), Regions4 organizará el 1 de julio el evento de alto nivel "Construyendo un futuro sostenible y resiliente: gobiernos subnacionales liderando enfoques integrados para las persons, el planeta y la prosperidad".
El evento reunirá a representantes de alto nivel de la ONU y a autoridades gubernamentales para compartir mejores prácticas y hacer un llamamiento conjunto para aumentar la ambición, la gobernanza multinivel, la solidaridad y la cooperación con el fin de diseñar soluciones integradas para las actuales emergencias mundiales y construir la resiliencia en el marco del HLPF, la COP15 y la COP26 de la ONU.
2021 debe ser el año de la sinergia, y Regions4 desea aportar la perspectiva subnacional a esta importante conversación global uniendo las voces de la ONU y de los gobiernos.

Regions4 se complace en anunciar el programa del evento y la lista de ponentes de alto nivel:

¡Inscríbase ahora!
El evento tendrá lugar el 1 de julio a las 08:30 h. EDT | 14:30 h. CET.
La inscripción está disponible hasta el 30 de junio en el enlace: bit.ly/R4Event1July
La nota conceptual está disponible en español, francés e inglés.
Las biografías de las y los ponentes están disponibles en español, francés e inglés.
En colaboración
El evento es organizado por Regions4 y sus miembros en colaboración con Race to Resilience, Global Taskforce of Local and Regional Governments, ORU Fogar y AER.
Este evento ha sido posible gracias al apoyo excepcional de los gobiernos de: Euskadi-País Vasco, Jalisco, y Catalunya.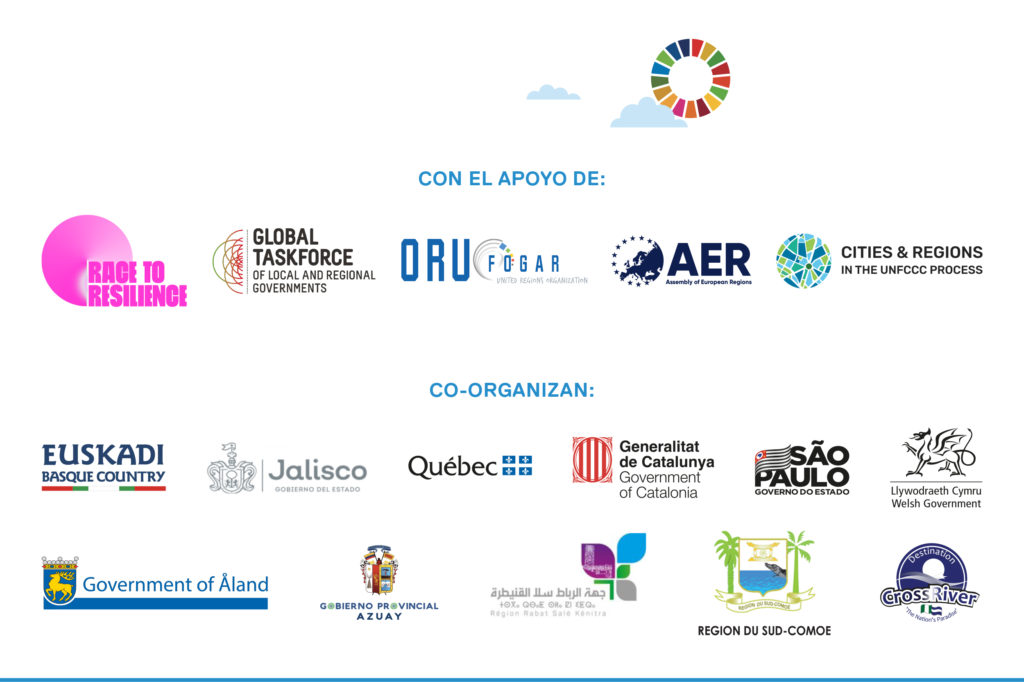 Más información
Para obtener más información sobre este evento de alto nivel, así como sobre las acciones de Regions4 para apoyar la consecución de la Agenda 2030, póngase en contacto con la Responsable de Desarrollo Sostenible, Ivy Moraes: imoraes@regions4.org