English version / Version español
2021 est une année de réunions cruciales aux Nations unies et un tournant si le monde veut assurer un avenir dans lequel les gens et la planète peuvent prospérer ensemble. À l'occasion du Forum politique de haut niveau des Nations unies sur le développement durable (HLPF), Regions4 accueillera le 1er juillet l'événement de haut niveau "Construire un avenir durable et résilient : Les gouvernements infranationaux, moteurs d'approches intégrées pour les personnes, la planète et la prospérité".
L'événement réunira des représentants de haut niveau des Nations unies et des autorités gouvernementales afin de partager les meilleures pratiques et de lancer un appel commun à une ambition accrue, à une gouvernance à plusieurs niveaux, à la solidarité et à la coopération pour concevoir des solutions intégrées aux urgences mondiales actuelles et renforcer la résilience dans le cadre du HLPF, de la COP15 et de la COP26 des Nations unies.
2021 doit être l'année de la synergie, et Regions4 veut apporter la perspective infranationale à cette importante conversation mondiale en rassemblant les voix de l'ONU et des gouvernements.
Regions4 a le plaisir d'annoncer le programme de l'événement et la liste des intervenants de haut niveau :

Inscrivez-vous !
L'événement aura lieu le 1er juillet à 08h30 EDT | 14h30 CET.
L'inscription est possible jusqu'au 30 juin sur bit.ly/R4Event1July
La note conceptuelle est disponible en anglais, espagnol et français.
Les biographies des intervenants sont disponibles en anglais, espagnol et français.
En partenariat
L'événement est organisé par Regions4 et ses membres en partenariat avec Race to Resilience, Global Taskforce of Local and Regional Governments, ORU Fogar et AER.
Cet événement a été rendu possible grâce au soutien exceptionnel des gouvernements de : Euskadi-Pays basque, Jalisco et Catalogne.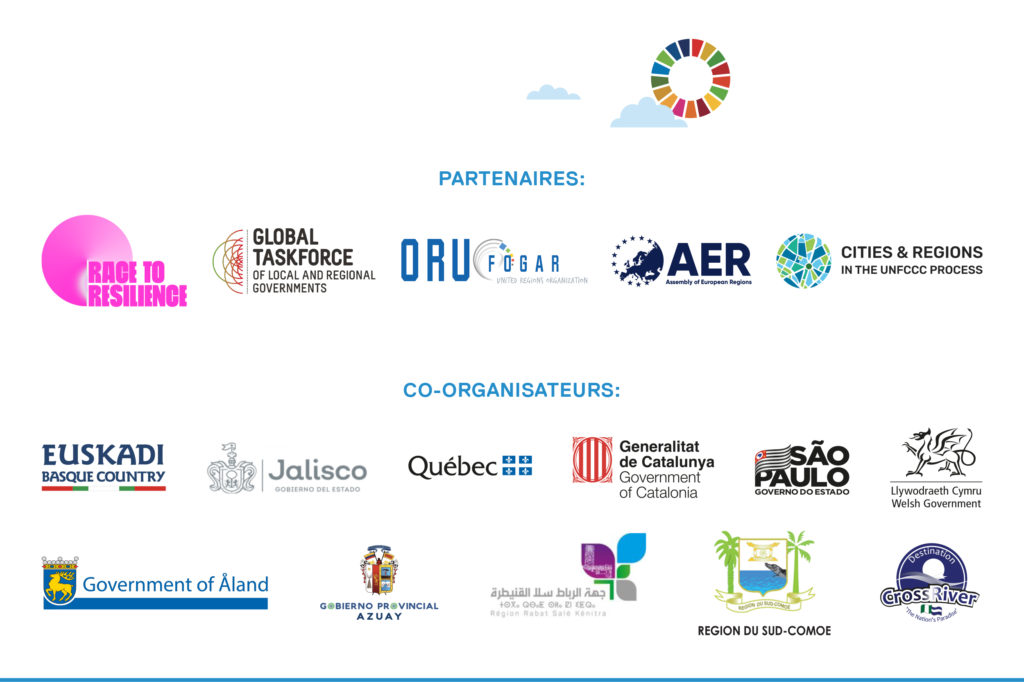 En savoir plus
Pour plus d'informations sur cet événement de haut niveau, ainsi que sur les actions de Regions4 pour soutenir la réalisation de l'Agenda 2030, veuillez contacter Ivy Moraes, chargée du développement durable : imoraes@regions4.org