Version française | Versión en español
High-Level Climate Champions, Nigel Topping and Gonzalo Muñoz, hosted today the first Race to Resilience Action Dialogues. The event saw the announcement of the first round of partner initiatives that have officially joined the Race to Resilience campaign, and brough together a wide range of resilience initiatives and civil society representatives, raising ambition ahead of COP26 and beyond.
At the event, High-level Climate Champion, Gonzalo Muñoz, recalled that: "Communities are taking action, not waiting for help. We need to support those people in action and recognise their capacity of becoming agents of change. That is why the Race to Resilience is a campaign for everyone. We need to actively promote locally-led adaptation and put resources behind it. […] If we choose to act together now, we can assure all our communities, specially the most vulnerable not only survive to climate shocks, but thrive in spite of them."
Regions4 is delighted to announce that its flagship initiative RegionsAdapt, has been named official partner of the global campaign, as it continues to catalyse climate adaptation action by subnational governments.

The first global initiative that supports the acceleration of climate change adaptation and progress tracking by subnational governments, RegionsAdapt aims at gathering a community of 100 subnational leaders by the end of the year at COP26, to present their enhanced commitments for adaptation, showcase innovative actions and report on regional achievements since the adoption of the Paris Agreement.
Regions4's Secretary General, Iñaki Susaeta, declared that "As a strong advocate for increased attention to adaptation to deliver a resilient future, Regions4 highly welcomes the selection of RegionsAdapt as an official partner of the campaign. This recognises the five-year-trajectory of RegionsAdapt initiative catalysing subnational climate action and leadership. It also reaffirms the key role of an active community of 71 subnational governments delivering adaptation plans and actions, producing annual reports to track progress, and ultimately impacting over 500 million citizens in 5 continents. We are ready to step up our game, help raise global ambition and further engage with the Race To Resilience campaign."
The way forward
The Race To Resilience campaign has the goal of safeguarding 4 billion people vulnerable to climate risks by 2030, by helping frontline communities to build resilience and catalysing action by non-state actors. To achieve that goal, the campaign has announced the first round of official partners which includes the RegionsAdapt initiative.
Regions4 is delighted to be part of this global effort to place climate resilience at the centre of the COP 26 agenda, putting people and nature first, and empowering local and regional action on adaptation.
Join us! By joining the RegionsAdapt initiative your regional government automatically qualifies to be part of the Race to Resilience. Regions wishing to be part of this global effort can contact Mayra García-Blásquez, RegionsAdapt Project Officer at mgarcia@regions4.org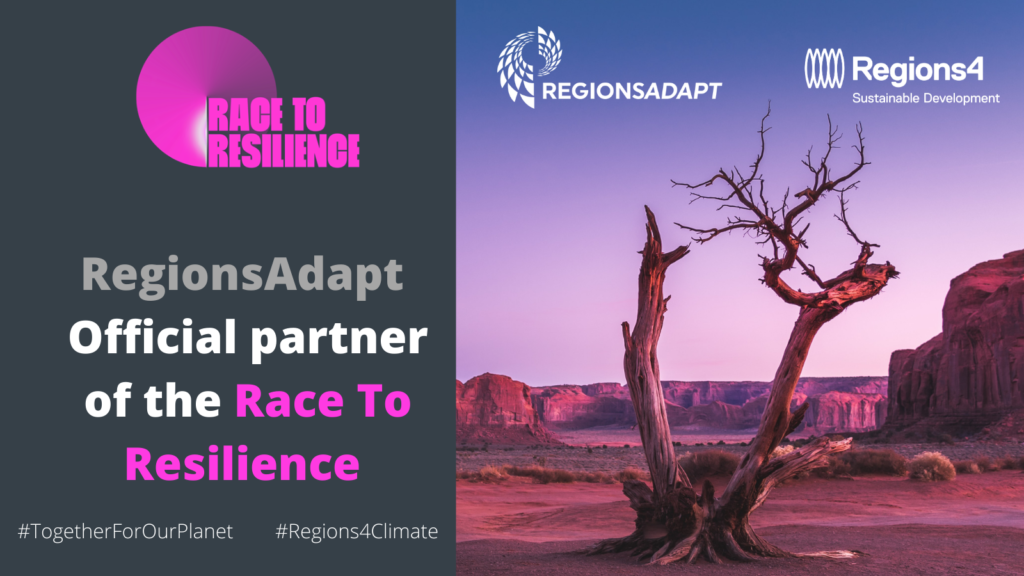 Further information
To learn about the Race To Resilience campaign and its partner initiatives, please visit the UNFCCC website
To find out more about RegionsAdapt, please click here
To learn more abou the Race to Resilience, click here
Related publications

– RegionsAdapt Brief Report 2020
– Climate Change Adaptation in a Multi-level Governance Context: A Perspective from Subnational Governments

To access all our publications, please visit the Regions4 Knowledge Hub.