The second most populated province in South Africa, KwaZulu-Natal is a water-scarce region. It faces serious challenges such as poor management of river catchment and waste pollution from informal human settlements alongside river systems. The KwaZulu-Natal Department of Economic Development, Tourism and Environmental Affairs (EDTEA) saw the need to invest in managing rivers to improve water security and the adaptive capacity of communities to the shocks of natural disasters, primarily floods and droughts. In 2021, EDTEA implemented the first phase of the Transformative Riverine Management Programme (TRMP), an initiative that improves water management and has a socio-economic impact at the same time.
Read more about it below
Many rivers in South Africa have been degraded by human activities and now suffer reduced capacity to deliver beneficial services to their communities. Climate change is exacerbating the damage to these ecosystems significantly, driving up social, financial and economic risks and costs.
KwaZulu-Natal has increasingly invested in managing riverine areas as a climate risk-management approach. The Transformative River Management Programme (TRMP) demonstrates how different riverine management approaches can produce innovative outcomes in support of enhanced climate resilience. The initiative tackles two main challenges: unmanaged waste and the spread of invasive alien plants, and has strong focus on community involvement, capacity/skills development and the creation of economic opportunities for low-income populations.
The impacts of flooding are intensified if drainage systems are blocked with waste, leading to intense damage to key service delivery infrastructure, human lives and income. People in rural and informal settlements struggle to recover after natural disasters due to their limited livelihood options.
Invasive alien plants negatively impact the environment and water security as they use more water than indigenous plants. Their spread compromises ecosystem integrity and reduces the level at which ecosystems deliver vital goods and services.
Most community members in rural and informal settlements are unemployed and this increases their vulnerability to natural disasters as they have limited options to help them recover after shocks. The TRMP's community-based approach contributes to the socio-economic challenges through the creation of employment for local people to work in the projects, offering project beneficiaries training and skills development, which enables them to access and be competitive in the job market.
Municipalities have a responsibility to implement programmes that respond to their Climate Change Response Plans and Implementation Plans. The province, mainly through EDTEA supports and ensures alignment of climate change interventions to the KZN Climate Change Strategy and Implementation Plan.
All this work contributes to South Africa's National Climate Change Adaptation Strategy (NCCAS) that has a primary role to support the country's ability to meet its obligations in terms of the Paris Agreement on Climate Change.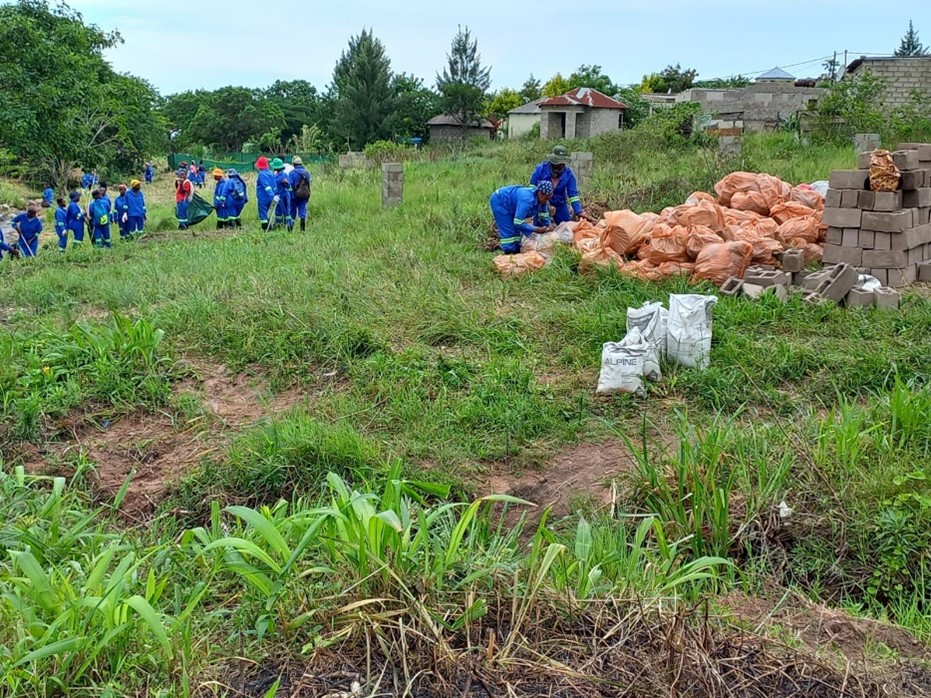 Description of initiative
Objective
The Transformative River Management Programme (TRMP) vision is to promote transformative urban riverine management, which works in partnership with all affected stakeholders to rehabilitate and sustainably manage all riverine corridors in a manner that
is resilient to the impacts of climate change;
transforms riverine corridors into clean, safe, healthy, valuable and pleasant open spaces;
generates social and economic opportunities for the community
TRMP focuses on river catchments that have been classified as highly vulnerable to climate change and have therefore been prioritized for climate response interventions as per municipal climate change response plans. Key steps include:
Stages
(i) municipalities submitting their expressions of interest to receive funds to implement riverine management interventions,
(ii) putting in place of legal agreements between EDTEA and successful municipalities,
(iii) recruitment of project participants by municipalities via Municipal Ward Councilors (focus on prioritizing women, youth and people living with disabilities),
(iv) transfer of funds from EDTEA to municipalities,
(v) start of project operations including procurement of protective clothing and work tools, and induction training on health and safety and code of conduct,
(vi) monitoring and reporting on progress.
Stakeholders
Participating municipalities (local and district)
Communities that are being served by the project
Traditional leaders
Other components from EDTEA from the Environmental Management Services
National Department of Forestry, Fisheries & Environment (DFFE)
KZN Department of Agriculture and Rural Development (DARD)
Non-Government Organisations active in the project areas
Beneficiaries
Locals from within the municipal wards in which the project takes place
Priorities: Youth, Women, People with Disabilities
Key lessons
The first phase of the project, which was implemented in Endumeni Local Municipality (Amajuba District), KwaDukuza Local Municipality (iLembe District), and Ugu District Municipality in the 2022/23 had positive results both ecologically and socially.
The project activities have resulted in cleaner and free flowing rivers and streams from waste management activities, healthier riparian habitats as a result of removal of invasive alien plants, and improved local economic development from employment creation and skills development.
Some of the key lessons that have been learnt during the first phase of the programme include the following:
A big impact can be made with limited investment.
There is a need for upscaling the existing projects and expanding to more municipalities and river catchments for increased impact.
Municipalities need to include riverine management programmes in their operational budgets to ensure sustainability and upscaling.
Removal of invasive alien plants requires follow-up treatments to manage re-growth and ensure complete removal, which would in turn require longer project periods and sufficient resources.
The employment period was found to be too short to make a lasting impact on the livelihoods of project participants. This has largely been dictated by the available funds.
Education and awareness on the value of managing rivers and the environment at large for climate adaptation must be central to the programme.
Sufficient resources must be allocated to training and development of relevant skills to enable the project participants to effectively participate in the local economy
Opportunities for initiating locally based recycling centres for channelling waste collected, thus diverting it from landfill sites.
Impacts
The impacts of Phase 1 was:
1.186 people directly employed in the projects
109 Tons of waste collected
98 Hec of land cleared off invasive alien flora species
Conclusion
The TRMP Phase 1 has been a successful demonstration of transformative riverine management for restoring the natural resource, protecting infrastructure, creating job opportunities, improving resilience to climate related risks.
Regional governments and Municipalities have a central role to play in championing and coordinating a transformative riverine governance approach as a mechanism for unlocking and leveraging the required responses to climate change adaptation and creating resilience for their citizens in line with their climate change response strategies and plans
Next Steps
A limited budget of R3 million has been made available to support implement Phase 2 of the programme in 2023/24.
The programme approach is scalable and can be replicated in other municipalities and water catchment management areas if more funds become available.
Actions
Biodiversity Action Area of focus: Capacity building, Ecosystem approach, Invasive Alien Species
Climate Action Area of focus: Water management, Disaster Risk Reduction and Loss and Damage
Type of Action: Climate risk governance & capacity building, Nature-based solutions, Sharing best practices
More information