ADAPTATION FUTURES 2023
More than 1500 members of the climate change adaptation community from around the world will gather in Montreal to share their knowledge on the challenges and opportunities of adaptation.
180 sessions, master classes and field visits will address themes such as migration, habitat, coasts, fisheries, agriculture, water, energy, finance, education, NBS, local and indigenous knowledge, equity and justice…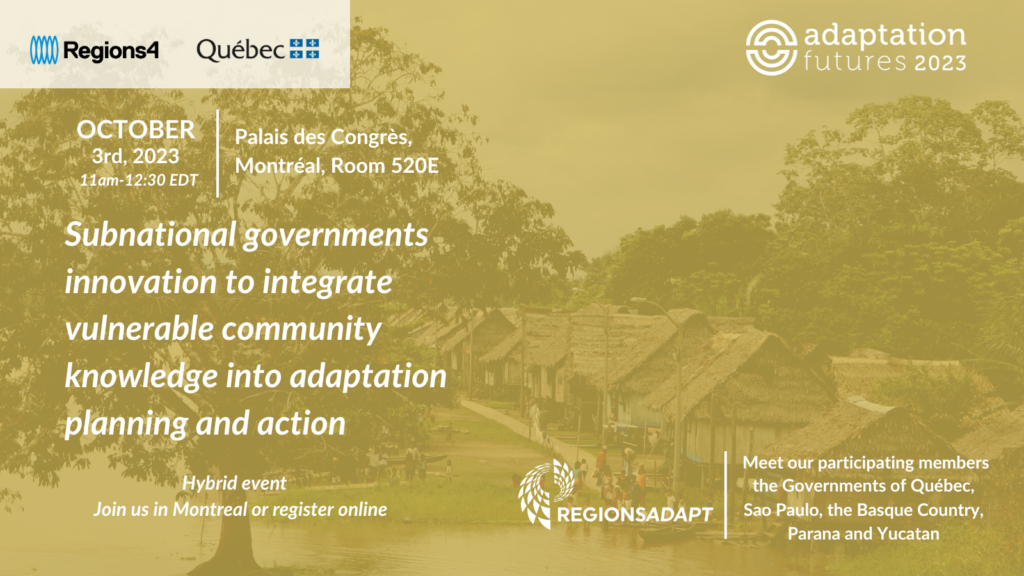 In the framework of Adaptation Futures Conference, Regions4 and the Government of Quebec will organize a session on October 3rd on the impacts of climate change on vulnerable communities, and why efforts to support adaptation must therefore grapple with profound questions of ethics, equity, and justice to leave no one behind.
AGENDA
Welcome messages
Jean Lemire, Envoy for Climate change, Northern and Arctic Affairs, Québec (Canada)
Jônatas Trindade, Undersecretary of Environment at SEMIL, State of Sao Paulo (Brazil) – Virtual 
Guest Experts:  Strategies For Integrating Vulnerable Communities into Climate Action and Planning
Philippe Leblanc-Rochette, Environmental coordinator and lead on the climate change, Makivvik (Canada)
Aldo Treville, Scientific Project Officer – Joint Research Programme, European Commision – Virtual
Regions4 Members: Innovative Initiatives With Vulnerable Communities
Julie Veillette, Climate Change Adaptation and First Nations and Inuit Relations Advisor, Government of Québec (Canada)
Dafne Mazo, Technician- Strategy and Innovation Area, Basque Country (Spain)
Letícia Salomão, Manager of Protected Areas, Government of Parana (Brazil)
Erika Margarita Uicab Campos Project leader in climate change adaptation at Government of the State of Yucatan (Mexico).