On the 8th of June, World Oceans' day, we are reminded more than ever of the urgency to protect our environment of which oceans are at the core. Due to Climate Change, sea levels are rising, the ocean is warmer and more acidic. Plastic pollution continues to enter the ocean at an alarming rate, a third of fish stocks are overexploited, and half of all living coral has been lost.
While progress has been made towards the achievement of some targets of Goal 14 of the Sustainable Development Goals (life below water), action is not advancing at the speed or scale required to meet our goals.
The biggest challenge in implementing SDG14 remains effective governance to respond to the rising risks and pressures on our oceans. Considering their proximity to citizens, regional governments have developed integrated solutions and governance models based on co-management that can be scaled up and influence for example integrated maritime policy and will be shared at the UN Ocean Conference.
In order to make the monitoring and evaluation of SDG14 (like many other SDGs) more accurate, a much sharper focus is needed on enhancing the roles and capacities of regional governments, notably in developing regions, by providing more technical and financial support and resources to fulfil their critical responsibilities.
Regional governments will call on parties of the UN Ocean Conference to build upon the know-how and expertise of local and regional governments in building sustainable management models, to respond to aggravated risks faced due to the ocean and sea degradation.
Regions4 has been working closely with its members such as Sao Paolo, the Basque Country, and the Government of Catalonia to allow for the participation of regional governments in the special event on Localizing Action for the Ocean of the 25th of June, in Matosinhos, and inputs to the UN Oceans Conference that will be organized Lisbon, from the 27th of June to the 1st of July 2022.
Regions4 has been inputting with the Global Taskforce of Local and Regional Governments (GTF) in the Zero-draft declaration of the conference, will be co-organizing a session on Strengthening cooperation, building inclusive and co-management governance approaches to protect the ocean in the Local and Regional Governments Special Event of the 25th of June in Matosinhos, and will be input in the plenary sessions and special side events at the UNOC conference, notably the one on Addressing water quality, models of good governance, and the climate crisis to enhance the resilience of coastal communities.
We call on other regional governments to join us and continue their commitment towards Ocean's by providing their voluntary commitments towards Ocean's protection : Ocean Commitments | Sustainable Development (un.org)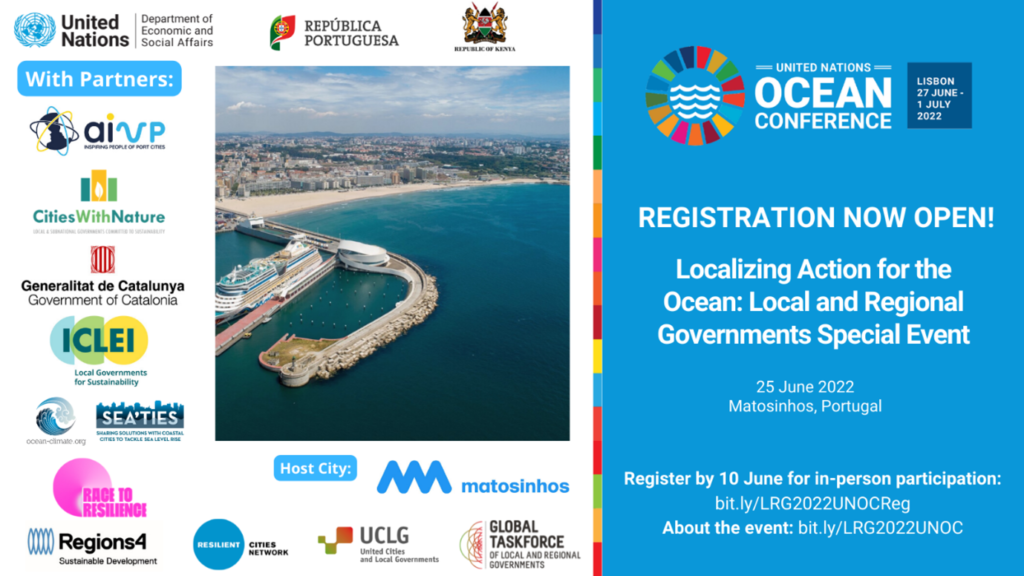 To learn more about our member's activities consult:
Other links: