Regions4 members are joining forces in an unprecedented opportunity for the fight for water security and adequate water management
The UN 2023 Water Conference, being held in New York City from March 22 to 24, marks the first global gathering on water issues in nearly 50 years. Hosted by the Kingdom of the Netherlands and the Republic of Tajikistan, this global event is set to tackle some of the most pressing challenges we face today in relation to SDG 6 – Clean Water and Sanitation. With an urgent need for water action, stakeholders from all sectors are joining forces to create momentum and drive progress towards the Water Action Decade 2018-2028 and the 2030 Agenda.
What is SDG 6 and what role do regional governments play in its implementation?

SDG 6, or the Sustainable Development Goal on water and sanitation, aims to ensure availability and sustainable management of water and sanitation for all. Access to safe and clean water, sanitation, and hygiene is an essential human need for ensuring good health and well-being. With the clock ticking towards 2030, it has become increasingly important to build momentum and raise the efforts to achieve this goal. If the progress continues at its current pace, The Sustainable Development Goals Report 2022 states that by 2030 1.6 billion people will lack safely managed drinking water, 2.8 billion people will lack safely managed sanitation, and 1.9 billion people will lack basic hand hygiene facilities.
The recent Intergovernmental Panel on Climate Change (IPCC) report also underlines the impact of climate change on water resources worldwide, and the biodiversity depending on it.
As global efforts towards achieving SDG 6 continue, local, regional, and community-led initiatives are taking place to ensure equitable access to water, regional and local governments have a unique position to recognize the role of communities and the urban commons in water management, as well as to scale up good practices to ensure water availability for all.
They also play a distinctive role in allowing for territorial balances between urban, rural and coastal areas, that are key for the effective and sustainable management of water resources.
The Regions4 network, a growing community of over 40 regional leaders, is aware of the magnitude of the challenge and is therefore committed to providing innovative solutions to the implementation of the SDGs, and to the fight against climate change and biodiversity loss.
The RegionsAdapt 2021-2022 Report highlights that 84% of regional territories report facing water-related risks, and one-third of adaptation actions address these challenges. With actions and initiatives like these, Regions4 members are driving forward practical solutions to ensure the move towards a more sustainable, healthy, and equitable world for all.
Signatories of the "Declaration of Rabat-Salé-Kénitra of subnational governments towards COP27", including Regions4 leading regions, are committed to promoting technical cooperation between governments, private sector, research and learning institutions, and civil society to develop territorial capacities on specific topics that will support sustainable recovery for a resilient future and addressing issues such as circular economy, sustainable water management, ecosystem valorization, urban-rural linkages, and food security.
The UN Water Conference provides an important opportunity to highlight how regional governments are uniquely positioned to lead the way in transitioning towards integrated approaches to water management, freshwater biodiversity, and groundwater ecosystems, and promoting a future that is in harmony with nature.
By strengthening regional governments' capacity to develop sustainable management models for ecosystems and biodiversity, we can protect water as a public good and ensure equitable access to it. Addressing the geographical inequities involved in global groundwater use and accessibility requires ambitious action, and regional governments are demonstrating they can take the lead.
Regions4 members at the UN 2023 Water Conference
High level representatives and delegates from four Regions4 members, the governments of Catalonia, Jalisco, Rio de Janeiro, and São Paulo, are joining forces for regional representation in the UN Water Conference, bringing their unique perspectives, experiences and commitments to the global water conversation.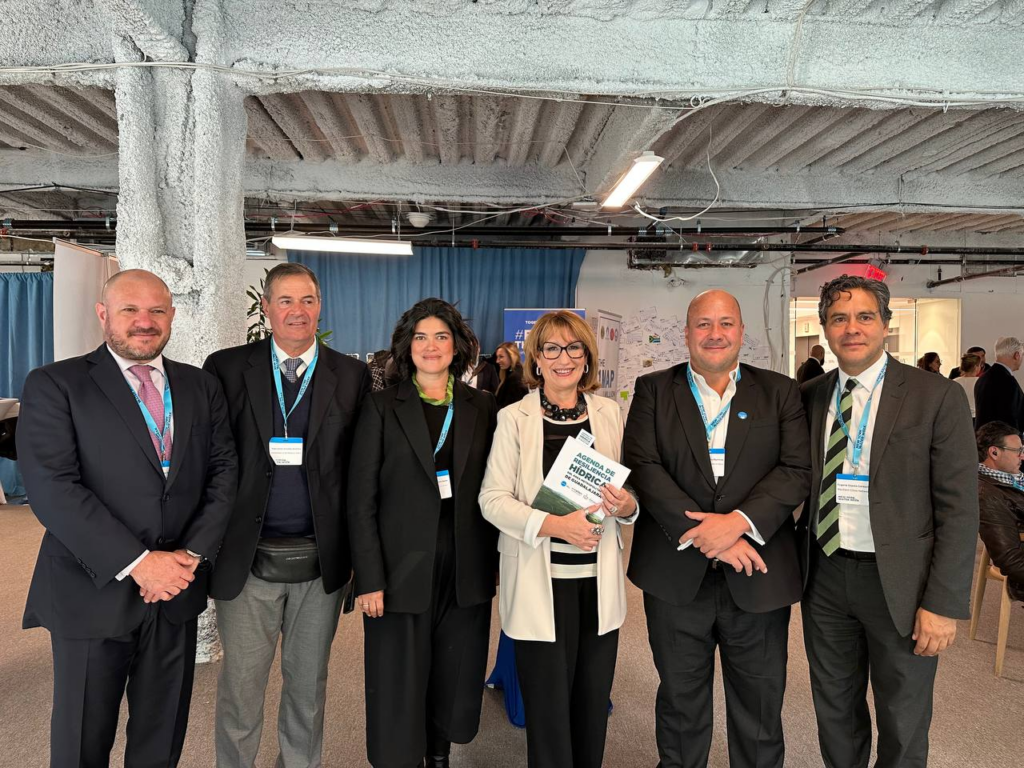 Regions4, in a joint effort with the United Cities and Local Governments Global Task Force (UCLG GTF), provided speaking opportunities for the four regions, to present their expertise and best practices at the Conference in various events and sessions, including two sessions of the "Local and Regional Governments Day," the "Cities solve, cities deliver" event , and the "Knowledge-Policy-Practice nexus between COP 27, COP 15, the Convention on Wetlands and its Wetland City Accreditation Scheme and Water" High Level Panel side event.
The Local and Regional Governments Day (LRGD), held on March 22 and hosted by UCLG and the Global Taskforce of Local and Regional Governments, saw representatives from all four regions participating in sessions and providing their unique perspectives on the global water challenges, discussing and agreeing on the Local and Regional governments constituency's Statement to the UN Water Conference and advocating for a system of water management that engages all actors, led by the regional and local level, and encompassing all levels of government to safeguard the world's water environments.
Speaking at the LRGD session "Protecting Water Ecosystems and Biodiversity", Enrique Alfaro, Governor of Jalisco, and Isidre Sala, Head of the Delegation of the Government of Catalonia to the United States of America & Canada, shared their views on how to achieve better and sustainable life below water, and in all cities and territories.
Enrique Alfaro presented the "Let's Revive the Santiago River" project and committed that by the end of the six-year term, Jalisco will have begun the process of cleaning up the river and will have managed to consolidate its environmental policy and ensure its continuity. This strategy is focused on guaranteeing human rights: guaranteeing the right to health, water, sanitation, a healthy environment and proper living standards, following up on the interim measure set by the Inter-American Commission on Human Rights in favor of the residents of the river's surrounding municipalities.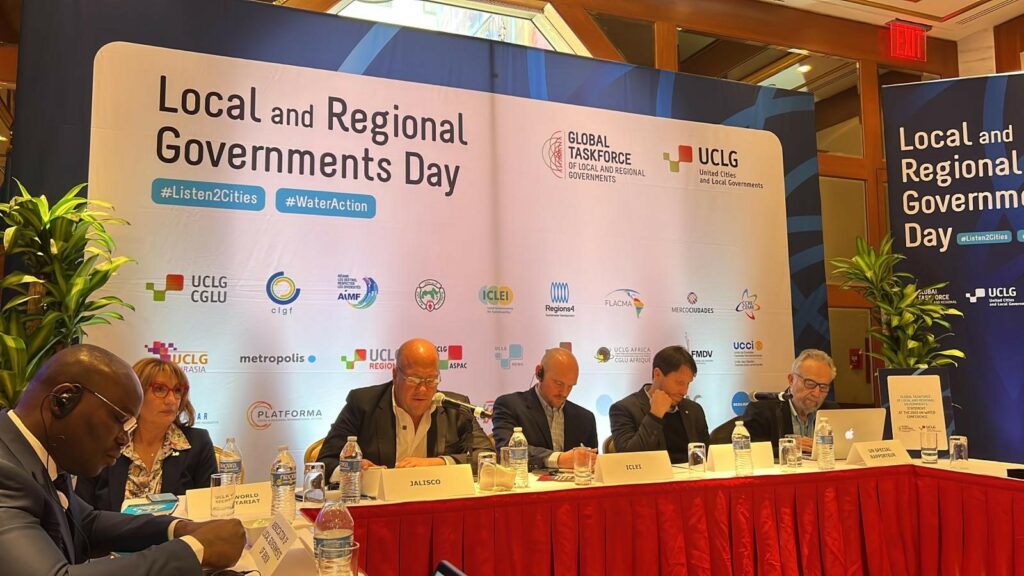 Isidre Sala, Head of the Delegation of the Government of Catalonia to the United States of America & Canada, highlighted that Catalonia wagers on regenerated water as an alternative and affordable source of non-conventional water supply for the future, given the scenario of water scarcity that is expected to increase in severity and duration in the coming years due to climate change. Catalonia is committed to taking action to guarantee safe and affordable water for all.
At the LRGD session "Renewed governance and Management of Water", Thiago Pampolha, Vice Governor and Secretary of Sustainability of Rio de Janeiro State and Mara Ramos, Superintendent at the São Paulo State Department of Water and Electric Energy, called for the inclusion of decentralized cooperation on water and sanitation and the need for engaging local and regional governments and their representative associations in all stages of decision-making processes.
Thiago Pampolha shared the ambitious plans for Rio de Janeiro for the next ten years, in which the region will become a blue metropolis. The region started a program called Water 2030, on water safety and security for climate ambition. Moreover, the State of Rio de Janeiro has been developing a Water Security and Safety State Plan looking forward to the next 20 years, until 2043, as well as blue economy projects. For instance, in the next few days, the regional government will launch the first Latin America's blue tech hub, an important step in bringing worldwide solutions and new technologies to Rio.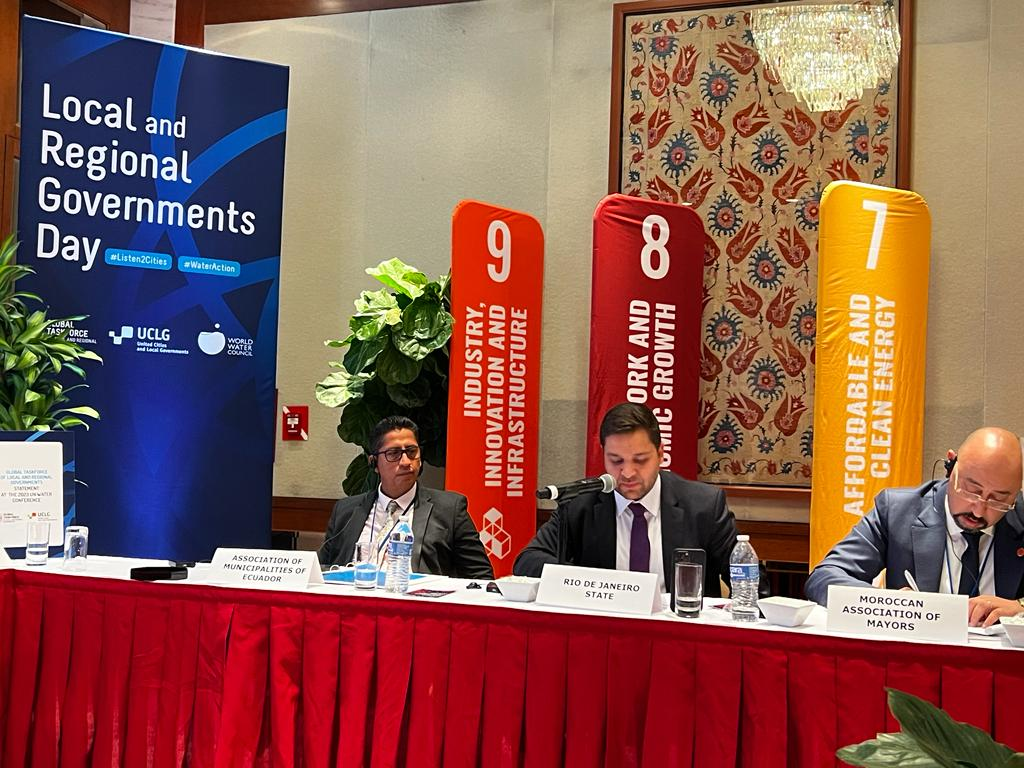 In the same event, Mara Ramos expressed São Paulo State's commitment to escalate and strengthen governance in water management through an integrated approach and high-level governance system. Ms. Ramos shared the region's efforts in cleaning the Tietê river and making its conservation compatible with multiple uses along its course. She also highlighted São Paulo's commitment to adapt the management model to the existing challenges in order to build resilience. We believe there is enough water, but not without changing the way the water is managed. This is our commitment, based on our strong experience cleaning the Tietê River and providing sewage treatment.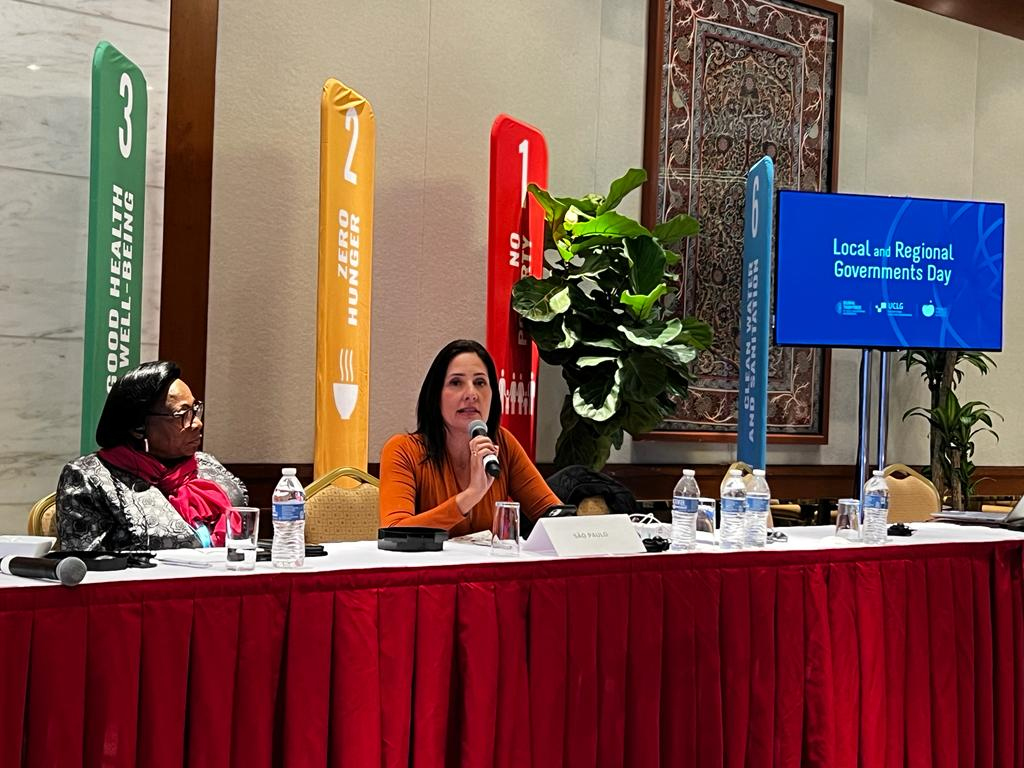 The "Cities solve, cities deliver" event, held on March 21 and hosted by the Cities Resilient Network, was another opportunity for Enrique Alfaro, Governor of Jalisco, and Natália Resende Andrade Ávila, State Secretary of Environment, Infrastructure and Logistics of the State of São Paulo to share their commitments in accelerating water action for resilient regions.
São Paulo shared its commitment to innovate in participatory processes, to seek new models and instruments for planning, monitoring and managing natural resources, while looking for new partners for this challenge, understanding the water agenda as a central element, but not an isolated one.
The "LGMA Constituency High Level Panel: The Knowledge-Policy-Practice nexus between COP 27, COP 15, the Convention on Wetlands and its Wetland City Accreditation Scheme and Water" brought together leaders to connect these critical agendas in order to accelerate the achievement of SDGs 6 and 11. Regions4 facilitated the participation of Thiago Pampolha – Vice Governor and Secretary of Sustainability of Rio de Janeiro State and Natália Resende, Secretary of Environment, Infrastructure and Logistics of the São Paulo State Government.
Regions4 was also present through a video presentation from Natalia Uribe, Regions4 Secretary-General, who shared on the importance of linking water and nature issues in our community of regions.
Beyond these speaking opportunities provided by Regions4, some Regions4 members also co-organized side-events at the UN Water Conference: "Rivers at Heart: Water Pollution and Social Inclusion in Mexico", organized by the Mexican Ministry of Foreign Affairs Government of the state of Jalisco and held on March 22; and "Localising the Blue Economy: A City-Basin Approach", organized by State Government of Rio de Janeiro and being held on March 24.
The participation and contribution of regional governments in these events are a testament to the power of collaboration and the importance of bringing together regional representatives, along with other multilevel and multisectoral stakeholders to share their knowledge and experiences.
Additionally, on the sidelines of the UN Water Conference, Regions4 is supporting the participation of delegates from Quebec and Catalonia at the virtual event "CitiesWithNature and RegionsWithNature: Connecting Water and Nature to accelerate local and regional resilience" that will take place on Friday 24 March at 10 am (local time). Registration is open and available to all at the following link.
Continue to witness history-in-the-making as regional governments and a diverse range of global actors work towards delivering water-related goals and targets to make a real difference in the world!
Links:
Find the final draft of the statement to be shared with the United Nations, including Regions4 members' inputs on this document here.
You may find more information about the State of São Paulo's commitment here