June 15 and 16 in Rabat-Salé-Kenitrá and online
2022 marks the 20th anniversary of Regions4 Sustainable Development, a pioneering network born during the World Summit on Sustainable Development held in Johannesburg in 2002. 
It also marks the 30th anniversary of the UN Conference on Environment and Development held in Rio de Janeiro in 1992, as well as the 50th anniversary of the UN Conference on the Human Environment held in Stockholm in 1972.
2022 is a crucial year for global environmental governance.
The ongoing environmental crises of climate change and biodiversity loss, combined with the COVID-19 pandemic and the war in Ukraine threaten immensely the planetary health and the livelihood of its citizens.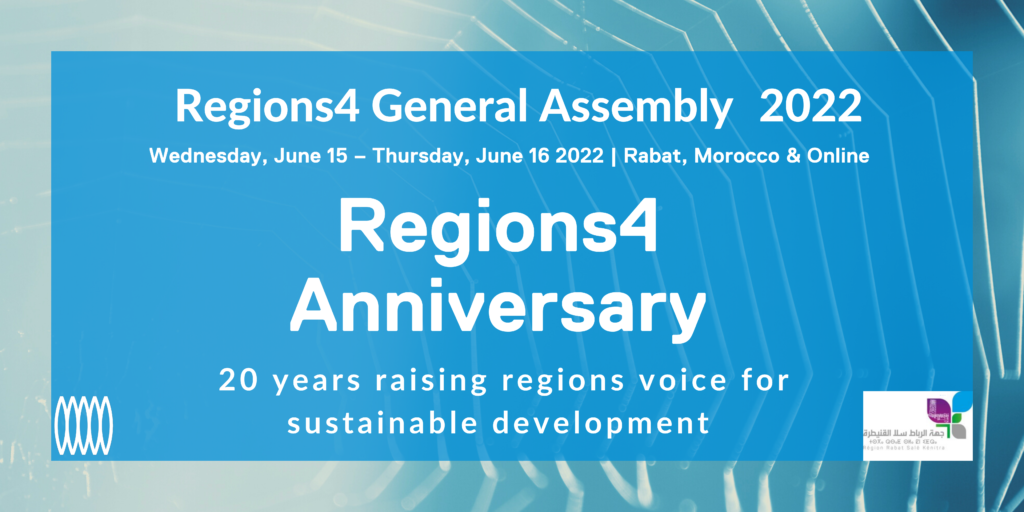 Regions4 General Assembly 2022 which takes place on 15 and 16 June will be an excellent opportunity to reconnect regions and to gather our community in a series of events to collectively define the pathways to achieve the resilience of 4 billion people by 2030.
Hosted by the government of Rabat-Salé-Kénitra, Regions4 Vice President for Africa, the event will gather Regions4 members to celebrate the 20th anniversary of our global network, our success stories, key milestones, and aspirations for the future 
In view of the CoP27 in Africa and with the leadership of our Vice Presidency for Africa, we are working to further engage and mobilize our African members. This will be a perfect scenario for African members to take center stage and share their views on how we can reshape our international cooperation efforts.  
Moreover, we are organizing a special High-Level event on 16 June to prepare the contributions of regional governments towards the Conference of the Parties on climate change (COP27) of Egypt and analyze the political opportunity to influence the global adaptation goal and COP27 processes. 
We kindly request to receive our members' RSVP by no later than 30 May 2022 by contacting: Ms Analice Martinsson, Head of Communications & Members Engagement at amartinsson@regions4.org